LONDON, UK, 19th June — A new study from the Women's Sport Trust has found that women's sports fans in the UK feel underserved by the content available to them despite record-breaking women's sport TV viewing figures in 2023.
The research, which was released to mark the launch of a partnership between the Women's Sport Trust and The R&A ahead of this year's AIG Women's Open, found that there are currently 6 million committed fans* of at least one women's sport in the UK, in comparison to 16 million committed fans for at least one men's sport. Of these fans, just 3% (180,000) were passionate about only women's sport
The Women's Sport Trust study, carried out by Gemba, showed that committed fans of women's sport consume on average two hours less per week than committed fans of men's sport, which in part may be due to the ease of access of the content.  Most of the content that committed fans consume is live – 62% for committed women's fans and 67% for committed men's fans.
There are opportunities to deepen the engagement of committed women's sports fans, with many feeling underserved by the content experiences available and accessible:
More than half (58%) of committed women's sports fans wish there was more non-live women's sport content available and nearly half (47%) of committed women's sports fans believe it is difficult to know where to find non-live women's sports content
Similarly, only half (52%) of committed women's sports fans feel enough notifications are available to follow women's sport, in comparison to two-thirds (69%) of men's sports fans
Best shots/goals highlights packages, player skills, game play and tactical analysis, and player personalities and stories are the content strands which appeal most to committed women's sports fans. However, fans feel these types of content are not always easy to find.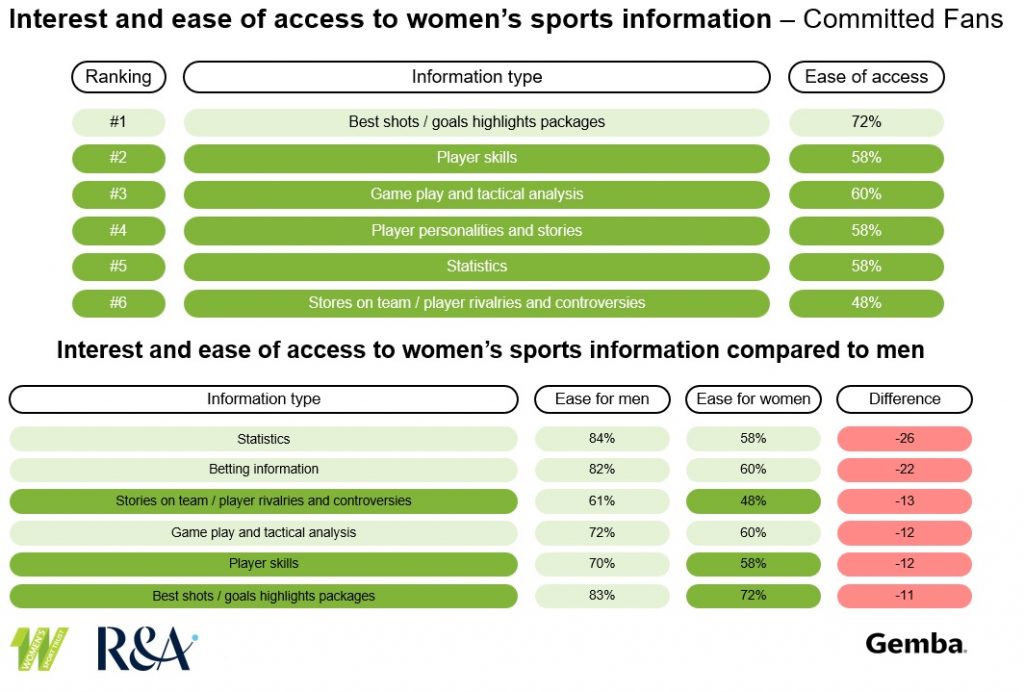 There are also some clear areas of potential growth for women's sport:
Over two-thirds (68%) of committed women's sports fans would like to see greater innovation in women's sports broadcast coverage
Over half (54%) of committed women's sports fans agree they would be more likely to watch a women's live game "if I am interested in the rivalries that have been built up between teams and players before a match"
While committed women's sports fans recognised the importance of women's sport being shown on free to air TV, with 82% of committed women's sports fans agreeing with this, 61% of committed women's sports fans would like to see a dedicated women's sports channel. 40% of this committed women's sports fanbase claim indicatively that they would be willing to pay a small subscription fee to access a dedicated women's sports only channel, with fans claiming c.£7 a month would be a fair and reasonable price to pay per month. The study also shows committed women's sports fans are more likely to be responsible for the household budget than committed men's sports fans (70% vs 64% for men's committed fans).
This latest research comes when the Women's Sport Trust also reported record visibility figures for women's sport in the first five months of the year.
22 million people, according to Women's Sport Trust data sourced by Futures Sport & Entertainment, watched 3 minutes or more of women's sport coverage from 1st January to 31st May, in comparison to 21.6 million in the first 5 months of 2022, and TV audiences were more than double the figures at this stage in both 2020 and 2021 when women's sport was impacted by the Covid pandemic.
The increase was driven by record-breaking audience figures in the UK for a range of premium women's sports properties including the Barclays Women's Super League.
A record 16.5 million UK viewers watched 3 minutes + of live Barclays WSL action on TV during the 2022-23 season, up 9% on the 15.1 million during the previous season. Average match audiences were up 33% season-on-season (200k to 266k) and live viewing hours increased 27% (28.7m to 36.4m), with a rise in both female viewership and younger audiences.
Tammy Parlour, CEO and co-founder of the Women's Sport Trust, said: "While women's sport continues to demonstrate significant growth, both existing and new fans of women's sport need to be better served by rights holders, broadcasters and sponsors providing the content formats they most want to consume and making them easier to access.
"Just as broadcasters such as BBC and Sky have made live women's sport easier to access on TV and been rewarded with record-breaking viewing figures this year, we need to ensure that a greater range of digital experiences are available to fans to satisfy growing audience interest. This will help ensure we build greater habit with domestic leagues and competitions and create opportunities to monetise this growing and commercially valuable fanbase.
"We welcome the commitment from The R&A, through this collaboration, to delve deeper into the fandom of women's sports and look forward to working with them to help them to use this insight to better serve engaged women's sports fans and continue to grow the visibility and commercial viability of women's sport."
Jackie Davidson, Director – Golf Development at The R&A said: "The Women's Sport Trust's insight and expertise means they were the perfect partner in delivering insight into what fans look for in women's sport. This research is the first of its kind to involve the golf industry and we believe it will be very helpful in shaping our strategy over the next few years to meet the needs of our fans."
* Committed women's sports fans score 5 out of 5 on claimed passion for one or more women's sports and watch 1 hour or more of live women's sport content per week.
To download the report please complete the form below
Our latest visibility report can also be downloaded using this form