Two Circles & Women's Sport Trust launch new research into women's sport fandom, supported by UK Sport, The FA, The ECB and The RFU
Now is the time to turn experiences into habits, in order to continue the momentum and establish genuine life-long fans, following a record-breaking year for women's sport, according to a new study.
Research developed by Two Circles and the Women's Sport Trust, with additional funding from UK Sport, The FA, ECB & RFU, shows habits in women's sports are currently less fixed than in men's sports. However, the study also found that any experience with women's sport was more likely to lead to positive changes in future behaviour, with fans wanting to watch more women's sport, when compared to experiences with men's sports.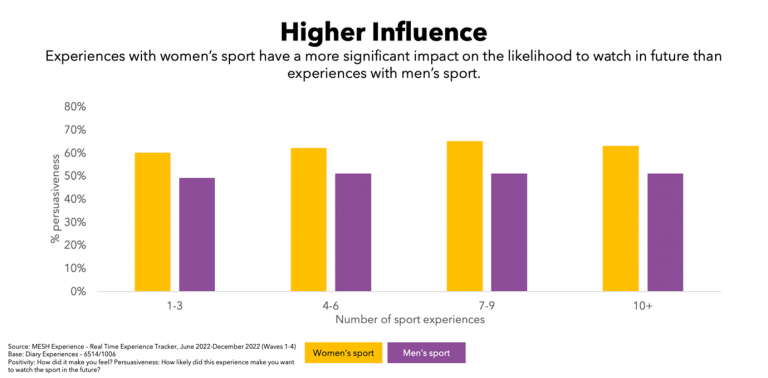 "Women's sport is becoming mainstream and the amount and depth of consumption is increasing rapidly," said Tammy Parlour, CEO, Women's Sport Trust. "We identified that the next frontier to tackle is habitual consumption of sport, which was the focus of this research, as this will open up a range of revenue streams that will help women's sport ultimately become sustainable and profitable."
"This study shows there is a huge opportunity for right-holders, media and sponsors to harness this interest in women's sport. The next step for the industry is to find ways to drive fans to develop a more meaningful, long-term connection to women's sport, across many different sports, so the fantastic growth we've seen to date does not stagnate."  
The findings also showed that the more varied experiences a women's sports fan had, be that watching on television or attending an event, the more likely they were to consume in the future.
The study shows that in-game attendance, and the excitement of those events, especially when played in a captivating atmosphere, are two significant metrics in driving habitual change in fans.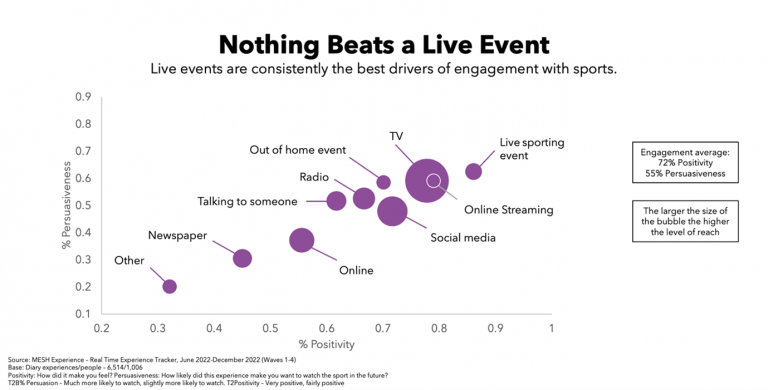 And while more than 75% of people agreed that women's sport is inspiring, the most significant correlation with consuming women's sport is when it is exciting.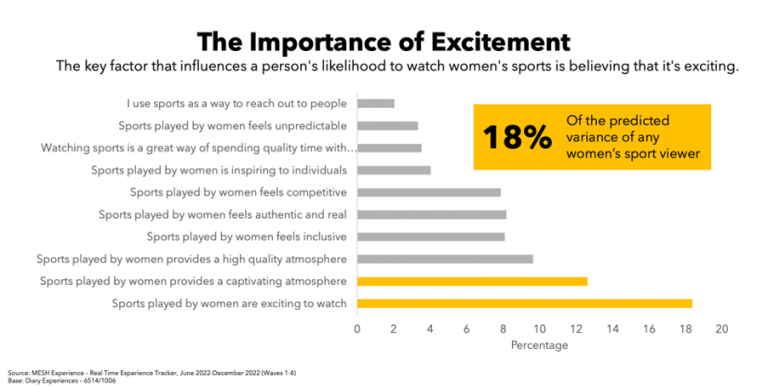 In fact, the study shows that sport played by women that is described as 'exciting' to watch was almost twice as likely to result in meaningful action, when compared with sport played by women that is 'inspiring' to others. Excitement is key for driving long-term habitual consumption.
Similarly, the attributes that are most attractive to fans for both male and female athletes are their sporting talent/skill.
In the UK, attendances for women's sports events exceeded not just one million, but two million, for the first time in 2022, supported by a successful UEFA Women's European Championships. But what does this mean for women's sport and the fans moving forward?
Clare Vigers, Client Services Director at Two Circles, explains: "Nothing beats a live event. They're consistently the best, most effective drivers of engagement with sports at the top of the fandom funnel, but for women's sport to grow sustainably in the long term, we need to turn these moments of breakthrough into habits, which will result in bigger, more consistently engaged audiences. Based on our findings, it is clear that this live engagement with supporters is key to creating positive habitual behaviours. Attendance is the bedrock of habit."
Not only that, but the depth of engagement in the viewership of women's sport also demonstrates the clear potential for long-term, sustainable growth. 2022 saw more people watching women's sport for 2 hours+ than ever recorded, showing that – not only are the raw numbers increasing – but also the depth of engagement within fans.
This is critical for growth at the beginning of the journey, where major events including women, broadcast on TV, can ignite top of funnel interest, with excitement and positive scheduling decisions playing key roles. This is followed by major sports events, attended in person or talked about with others, driving the next stage of engagement. And finally, blending in-person experiences with the amplification and storytelling opportunities from other channels. Ultimately, for women's sport to grow, audiences need to be supported across all these points of engagement.
As revealed in 2021's Closing the Visibility Gap study from Women's Sport Trust and Two Circles, revenue generated by women's sport in the UK is still predicted to hit £1bn by 2030 – with female athletes and teams becoming more visible key to unlocking growth.
Vigers concludes: "The size of the potential prize remains significant for women's sport in the UK. And to get us there, the research shows the importance of time, location, emotional state, and other people on habitual behaviour. Consistency really matters when building habits – from scheduling and messaging to building the excitement. And there's plenty of excitement still to come."
The research, conducted by MESH Experience, was created by global sports marketing agency Two Circles and Women's Sport Trust, with additional funding from UK Sport, The FA, ECB and RFU.  
A full copy of the research can be downloaded using the form below.