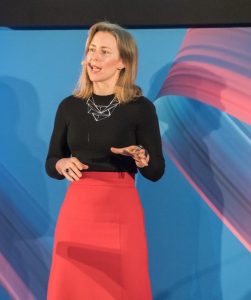 LONDON, UK, 26 June — The Women's Sport Trust (WST) is delighted to announce the appointment of Rebecca McNeil as its new Chair of the WST Board.
Rebecca is currently CEO of Close Brothers' Retail division, prior to that she was CEO of Close Brothers Motor Finance, and sat on the board of Close Brothers Channel Island's business.  She has held senior roles in Barclays as Chief Operating Officer for Barclays Business and MD of Product for Business and Corporate lending and led the Asset Finance Division. She chaired UK Finance's Corporate Committee for two years and is the first woman to chair the Finance & Leasing Association. She has also held advisory roles with the Government's Scale Up Taskforce and the Mayor of London's Business Advisory Committee. 
Tammy Parlour, CEO and co-founder of the Women's Sport Trust, said: "We are delighted to appoint Rebecca as our new Chair. As women's sport continues to professionalise, her commercial experience and passion for equality will be a huge asset for the charity and I am looking forward to working with her when she joins in September."
Rebecca McNeil said: "This is an exciting time to be involved in women's sport and I can't wait to get started. The Women's Sport Trust is a trusted voice and the organisation has driven progress in the industry thanks to the breadth of work it does, including reporting on the visibility of women's sport and supporting female athletes. I'm looking forward to supporting Tammy and her team so they can continue to drive forward the industry through its amazing work."
Rebecca will be officially confirmed in role at the charity's AGM in September.