Women's Sport Trust is run by an operational board of trustees comprised of committed volunteers. We are keen to be a diverse and inclusive organisation and are actively looking to expand our board.  Please let us know if you'd like to find out more.
Tammy Parlour, Co-founder
Master Tammy Parlour is a 5th degree black belt in the Korean martial art of Hapkido, having practiced for over 30 years.  She founded Chang's Hapkido Academy UK, a full-time martial arts and meditation school in central London.  Tammy specialises in the relationship between martial arts and personal development. She has written a book on meditation, lectures at organisations like The Wellcome Trust, and has just completed an MSc in Strength & Conditioning.
"I am embarrassed to admit that it's not until recently that I ever fully considered the impact of being a sportswoman in a predominately male environment. I have dedicated my life to practising and teaching a martial art and had never really openly considered my gender. London 2012 changed that.
The Olympics brought women's sport and images of women athletes to the fore. I realised that I enjoyed watching sport much more when there were women playing. I started to feel differently about myself and seemed to be standing a little taller as a result.
I remember walking down the Embankment in London and I felt a huge pride in what I do. I realised that though I love playing sport and run my own martial arts school, sometimes I've felt not totally understood by others.  I've often had to field comments about it not being a 'proper job' or that it was a strange thing for a women to do.
The Olympics changed me. I came out! I am a full-time female sports person, and the strength, the dedication and the perseverance of other female athletes inspires me. I don't want to lose that; I don't want to go back to a world full of men's football.
This is why I founded Women's Sport Trust – but the concept will only work if we all get involved."
Jo Bostock, Co-founder
Jo Bostock is the founder of Pause Consultancy, a leadership development business that advises global businesses, leading media organisations and influential third sector clients on inclusive leadership. She believes that it's vital for senior leaders and top team teams to understand the values that drive them and what it means in practice to be authentic. Through coaching, workshops and conferences, Jo is keen to stimulate critical reflection and debate about how people can exercise influence about the things that matter to them. Jo specialises in gender progression in the workplace and has written a book for Cambridge University about the different ways in which women see themselves as successful. 
"The main driver for my involvement in the Women's Sport Trust is a determination to create more opportunities for women and girls to engage in sport if they want to.  When women can't see other women actively participating in sport, getting funded to do so and receiving media coverage when they excel – that's a problem.
I am also utterly convinced about the value and importance of visible, diverse role models. They send a message about what is possible, the different ways you can look and the range of ways of being successful.  I am excited about the potential for the Women's Sport Trust to actively support the emergence of strong female role models through access to funding.
On a more personal note – whilst I love my job, my head can get fried and the rest of my body feel somewhat neglected.  The squash court is where I go to reconnect, re-energise and be myself.   I love watching and playing sport but don't love that it can be infernally difficult to even read about women playing sport, never mind see it live.  I hope that the Women's Sport Trust will help to change this."
Sue Day, Treasurer
Sue Day is a former England and Wasps rugby player. She represented England from 1997 to 2009 and captained both the 15s and the 7s sides. Sue is also a Chartered Accountant. She worked part-time for KPMG throughout her England career and is now a (full-time) Director in KPMG Corporate Finance. She is also a keen climber, walker, camper, CrossFit-er and occasional rugby player and hopes to complete her first triathlon in May (having first learned to swim more than a single length).
"As I write this, the England Netball team have just secured a historic, first-ever series victory against Australia. In the Autumn the England (Women's) Rugby team secured a historic, first-ever series whitewash against New Zealand, the World Champions. The England (Women's) Cricket Team, World Cup holders, are in India, favourites to defend their title. The England (Women's) Hockey team just won an Olympic Medal! And that is just (some of) the team sports.
If this were happening in men's sport it would be incredible, hyperbolic, breath-taking front page news. Unfortunately for women it is not even back page news but rather is tucked away on a small paragraph on the inside pages.
This is why the issues that the Women's Sport Trust aims to tackle are so close to my heart. We need to be able to inspire the next generation of Eboni Beckford-Chambers' and Charlotte Edwards' and Nolli Watermans. We also need to inspire the next generation of women's club and county players and the next generation of girls who just want to play sport for fun and fitness and to keep active.
To do all of that we need coverage, we need role models that girls can actually see and read about and we need funding. The Women's Sport Trust aims to help women and women's sport achieve all of those things and I for one am very excited about it."

Sarah Odell
Sarah is the Head of Organisational Effectiveness for BP's Integrated Supply and Trading. She has over 13 years experience in developing and implementing talent management initiatives with a specific focus on the retention and development of top diverse talent. Sarah played lacrosse for England. 
"Sport defined my childhood.  Through sport I was provided a scholarship to a world class university; through sport I was afforded the opportunity to represent my country; and through sport I learned how to lead, how to follow, how to win and also how to lose.  Sport allowed me to build skills that I would not have learned in a classroom – I believe all women should have access to these same opportunities.
I know I am one of very few women who were able to tap into resources to help fulfil my sporting dreams – this needs to change.  All women who have a passion for sport should have access to both the people and the funding who can help them to realise their passion.  This is why I'm involved in the Women's Sport Trust."
Sue Anstiss
Sue Anstiss is the founder and Managing Director of Promote PR, an award winning public relations agency which has specialised in the field of sport and active leisure for over 20 years, and represents a range of clients including national governing bodies of sport, leisure operators, sports events, charities and suppliers to the sector. Sue is also a non-executive Board Director at UKactive and Get Berkshire Active. A former volleyball player turned netballer, Sue took up triathlon in 2012 and now represents Great Britain as an Age Group Triathlete 'enjoying' the enormous challenge of fitting training in around work and family life.
"I feel incredibly privileged to be a trustee of the Women's Sport Trust. I've been so lucky to work in sport for over 20 years, and it's wonderful to see my three daughters now discovering the joys of swimming, netball, athletics, trampolining and triathlon.
Sport can be so powerful for women on many levels – building confidence and self-esteem, enhancing health, and enabling and sustaining lifelong friendships. I want all women to have the opportunity to access sport throughout their lives, and feel that right now we have a superb opportunity to increase the profile and provision of women's sport in the UK – from our inspirational elite performers through to grassroots participants. The WST is already making a significant difference to women's sport and I am delighted to play my part and contribute as a trustee."
Emily Cushion
Emily Cushion is a strength and conditioning coach with the English Institute of Sport and GB Badminton. She has experience working with numerous sports including hockey, rugby union & league, cricket and synchronised swimming. Alongside this, she is in her final year of a MSc in Strength and Conditioning. With a passion for sport herself, Emily took up the sport of weightlifting two years ago and regularly competes both in the UK and internationally.
"When I was first invited to be a trustee for the women's sport trust I immediately thought this is something I want to be involved in.
Having come from sports that are very male dominate (rugby and weightlifting), I just accepted that it would be hard for women to be recognised the same way. However, coming off the back of the 2012 Olympic Games this is definitely the time to push women's sport.
The success and achievements of all athletes should be recognised and encouraged to the same extent. The work from organisations such as the Women's Sport Trust will aid in this exciting journey and I am proud to say I am a part of it."
Suzy Levy
Suzy Levy is the head of Leadership, Diversity & Employee Engagement for Accenture UK and Ireland. In her role, Suzy is responsible for a suite of people programmes which enhance diversity, inclusiveness and people engagement in Accenture. Suzy is hugely passionate about the differences individuals bring to the world and creating an inclusive work environment where people are encouraged and supported in bringing all of who they are. Outside of work, Suzy is a passionate athlete, mother and wife, and has benefited from both individual and team sport throughout her life.
"There is much debate in the media about how to get more women on boards in the UK and across the globe. Similarly, we see focus on the lack of women in parliament and media. Sport plays an important role in leveling the playing field across all of those bodies. Sport creates positive role models, who are healthy, vibrant and active. Sport creates opportunity for women to advance their natural skills and at the same time operate in an environment where competition is healthy and good and where winning requires not just doing a good job, but smart thinking and intelligent play.
I firmly believe that when you touch a young girl's life with sport, you enhance the possibilities in her future. As a business woman, athlete and mother to a young daughter, I am delighted to be part of the Women's Sport Trust. It's time to level the playing field"

Niccola Hyslop
Niccola is National Contracts Manager at SkillsActive, the Sector Skills Council for the Active Leisure industry. She manages the organisation's flagship workforce learning and development contracts with Sport England, National Governing Bodies of sport and other high profile sport industry organisations. Niccola has an array of experience in operations, from project management, to marketing and events management and has worked for a wide variety of organisations, from charities such as the Dame Kelly Holmes Legacy Trust, to large corporate companies. Niccola used to compete for the Yorkshire cross-country team at a national level during her school years; she now runs for fun and fitness only(!) but plays korfball for Highbury KC 1st team on a regular basis.
"It is vital that we put all the talk around women in sport in to action. It's time to join the dots and make it count.
Learning and development of workforce is important to me. If we are to bring about real and long lasting change for women participating and or working in sport I believe that the workforce delivering and reporting on this activity must be a vital part of the jigsaw. If change is to be sustainable we need to start at the beginning, ensure that we support up and coming talent, provide them with great role models to emulate, and build a pathway to enable further development in the future. The Women's Sport Trust is here to help kick start this process.
Change is coming for women in sport. I'm excited to be involved!"
Ros Kirkland
Ros Kirkland has over 18 years of humanitarian experience working predominantly with the Red Cross in overseas, headquarter and consultancy roles. She specialised in natural disaster and conflict response and has worked in North Korea, China and Mongolia and has regularly visited countries in East and Central Africa and South East Asia. She has extensive experience of strategic planning, programme management, grant management, report writing and monitoring and evaluation. She has recently completed a Masters in research skills and International Development. She also trained as a journalist and is a keen photographer. At school, she competed in the annual Independent Schools' National Athletics Championships three years running. She is a keen walker and enjoys running and tennis.
"I have been very inspired by the incredible successes of women in the 2012 Olympics and Paralympics and the 2014 Winter Olympics and Paralympics and I would like to see much greater and more consistent coverage and visibility of women's sport.
While I find it very motivating to follow elite athletes, I feel strongly that sport can and should be available to everyone and enjoyed at all levels by all ages. The important thing is to get involved. Sport has always been an important part of my life – it has taught me about teamwork, dedication, perseverance and so much more, which is why I would like all girls and women to have access to sport. As a keen sprinter at school, many of my athletics heroes were men as their successes dominated the media, but it's incredibly important for girls and women to see other girls and women participating in sport.
It is for these reasons that I feel very privileged to be involved with the Women's Sport Trust as I aspire, wholeheartedly, to their goal to raise the profile and visibility of women's sport."
Kate Hannon
Photo, bio and statement coming soon.
Nicola Waterworth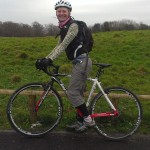 Nicola Waterworth is based in Bristol, and is a keen road cyclist and sometime triathlete. Although she likes experiencing all new things on two wheels and is currently experimenting with CycloCross. An experienced feminist activist, Nicola works to create opportunities for change with women at a grassroots and local level. This includes volunteering as a British Cycling Breeze Champion and Level 2 Cycling Coach to provide women with more opportunities for cycling, at all levels and abilities. Nicola was a co-founder of Bristol SportWatch, a local website providing fixtures for women's sporting events in the local area and is working with a range of other women and organisations in Bristol to raise the profile of women and girls sport and participation levels. Nicola has significant experience working within the local authority, and other public sector agencies, to deliver change through strategic planning, policy, commissioning, grant-giving and project/ programme management. Her experience is particularly strong in working to deliver effective services for children and families with a focus on prevention and early intervention services.
"I believe sport, and importantly taking part in sport at whatever level, is very really a #gamechanger. I say this from a personal perspective, as someone who came 'late' to very amateur, competitive sport. 'Late' in this sense means my early '30s and the sport in question was triathlon. Through which, I achieved not only physical fitness but improved emotional well-being and skills that have been of immeasurable importance in both my professional and personal life.
As a long-term grass-roots feminist activist and campaigner it was obvious my experience would fill me with questions: What had so inspired me? Why had this not been part of my life earlier? Where were my female sporting role models? Why did the unopened sport pages of the newspaper so quickly line the food caddy? Was my experience shared with other women and girls? Shared with others who are excluded through economic, health, social or other inequalities? How better could sport be harnessed to create positive social change?
And guess what? My experience is not unusual for a woman, there is massive gender inequity in sport – in everything from participation levels, perceptions and attitudes, media coverage, funding and sponsorship. These inequities prevent sport being the force for positive influence it could be in the lives of 51% of the UK population. And because I feel passionately about this potential for change I am working with the Women's Sport Trust to address this."