Trustees are supported by a Grants Board consisting of leaders of prominent women's sport organisations, female athletes and other influential individuals.
The Grants Board is responsible for shortlisting grant applications.  This shortlist is then circulated to all our donors so they can vote on where they want their money to go.
Kate Richardson-Walsh, Chair of Grants Board

GB & England Hockey Captain.
Kate Richardson-Walsh is a triple Olympian and 2012 Olympic Bronze medal winning hockey player. Kate has captained both England and Great Britain women's hockey team for over 9 years and has amassed over 290 international caps over her 14 year international career. Kate has won silver medals at the World Cup, Champions Trophy and Commonwealth Games along with another 8 bronze medals from international competitions. Her partner Helen Richardson-Walsh also plays in the international team.  Kate is currently training full-time and is a member of the EOC Athletes' Commission.
Click here to read why Kate is supporting the Women's Sport Trust.
Kathryn Nawrockyi
Director, Opportunity Now
Kathryn is Director of Opportunity Now, the gender equality campaign from Business in the Community (BITC). She is also an author of Project 28-40, the largest ever UK study of women at work.
Additional bio information pending…
Andi Keeling
Director of Women's Markets, RBS
Andi is passionate about improving the representation of women, in business, on boards, in sport, in media and creating inclusive behaviour and cultures.
She has over 30 years experience in all areas of UK banking and has led teams of over 300 people, is an engaging and inspiring speaker and develops people to be the best they can be.
Andi is a subject matter expert in gender and LGBT diversity, sitting on the RBS Exec Steering Committees for both, working to influence how the Bank can be more inclusive for employees and customers whilst also creating a positive impact in local communities.
She works with and supports charities Diversity Role Models and Stonewall where she wants to make a difference by supporting truly inclusive behaviour, starting at 'grass roots' level in schools. She also sits on Advisory Boards for Bright Horizons and Radius-Business.
Click here to read why Andi is supporting the Women's Sport Trust.
Justine Roberts
Mumsnet – Founder and CEO
Justine Roberts is Founder and CEO of Mumsnet an online community of parents sharing advice, support and product recommendations. Over the last 13 years it has grown into the UK's busiest and most influential network for parents with over 8.5 million visits a month.
In February 2013, Justine was listed number 7 in BBC Radio 4 Woman's Hour's Power List of the 100 most powerful women in the UK today. Justine was voted Red Magazine's Red Hot Woman in 2010 and was also included in the Guardian's 100 most influential people in the media.
Mumsnet hosts over 200 local sites, a network of around 3000 bloggers, and regularly campaigns on issues including support for families with SEN, improvements in miscarriage care and freedom of speech on the Internet. In May 2011 Mumsnet launched Gransnet, a website for the original baby boomer generation to discuss relationships, news, culture – and not least grandparenting.
Before Mumsnet, Justine wrote about football and cricket for the Daily Telegraph and the Times and before that, a long time ago, she was an economist and strategist for SG Warburg.  Justine read PPE at New College, Oxford and is a mother of four (and two dogs).
Click here to read why Justine is supporting the Women's Sport Trust
Fiona O'Hara
Accenture – UK&I Board Member
Fiona O'Hara is the Managing Director for Global Technology Operations and sits on the UK&I board as the Human Capital and Diversity for the UKI at Accenture. She is a member of the 30% Club, and is a passionate supporter of the development, and advancement of women in business and beyond.  As a high profile leader and role model, Fiona has used her influence to put in place programmes that drive inclusiveness, engagement and balance across Accenture in the UK.
Click here to read why Fiona is supporting the Women's Sport Trust.

Liz Grant, OBE
Consultant
Liz Grant is a business development consultant, with a focus on building inclusive workplaces. For what seems forever she has been involved in many forms of equality and fair chances activity. She has been a trustee and was deputy chair at Stonewall where she had Board leadership for workplace best practice. She has been a member of the IBM UK Trust whose remit it is to empower the vulnerable and disadvantaged by providing access to and training in IT. Liz Grant was awarded an OBE in 2013 for her services to LGBT workplace equality.
Click here to read why Liz is supporting Women's Sport Trust
Karen Fortunato
Company Secretary & General Counsel 
Karen graduated with an honours degree in law from King's College, London in 1985. She then qualified as a barrister and practised law from her country of birth, Gibraltar, where she was the sole female barrister at the time. She joined Santander UK (formerly Abbey) in late 1987, initially as a junior in-house lawyer. She has remained in the Company ever since, working in a number of roles both within and outside the Legal Department. These have exposed her to change (both on a personal and organisational level) and helped her develop and motivate colleagues and team members through change.
She is currently a member of the Company's Executive Committee.
Click here to read why Karen is supporting Women's Sport Trust.
Oliver Black
My Family Care – founder
Oliver Black is one of the UK's better known childcare and eldercare entrepreneurs; the founder of My Family Care; and a non-executive director at Tinies Childcare.
He started his career at P&G as a brand manager with Oil of Olay and he was part of the team that introduced P&G's trailblazing maternity support programme. He was the first person in the UK to move the childcare market online launching Tinies in 2000 which has become the UK's largest supplier of crèches, nannies and nursery staff.
My Family Care was founded in 2006 with support from IBM's work/life balance fund and has established itself as the leading provider of Work+Family solutions for many of the UK's best known employers including IBM, Pfizer, Shell, P&G, Freshfields, UBS, Barclays, Baker McKenzie, Bank of America, McKinsey, Deloitte, Citi, KPMG, Rolls-Royce, Santander.
The business has one simple aim, Making Work+Family Work. My Family Care provides a number of very practical solutions, all designed to make work and having a family a practical and profitable reality for both the company and the employee.
In his spare time Oliver is a proud father of 3 young children, which some describe as "living the brand" and has an unhealthy obsession with endurance races & sport.
Click here to read why Ollie is supporting Women's Sport Trust.
Manisha Tailor
Football coach, mentor and journalist
Manisha is a former deputy head teacher with over 12 years experience working in education. She is committed to bringing her teaching, leadership and coaching expertise to a full-time career in football. Manisha currently combines a number of roles, including coaching 5-11 year olds in schools for the Rachel Yankey Football Programme and working as a shadow coach at Arsenal Ladies Football Club.
Manisha sits on the London FA 'Inclusion Advisory Group' where her experience is particularly valuable in setting up programmes that are designed to increase participation for BME and under represented groups. She is an ambassador for the FA's 'Football Needs' Campaign, where she actively strives to increase the participation of grassroots coaches. As an ambassador for The British Asian Talent Foundation she focuses on increasing the number of elite players, across a range of sport from the Asian community and also raises the profile of sport in her role as a journalist for The Asian Express. Manisha is a mentor for 'Kick it Out', and is currently working with a number of young people from a BME background, helping to signpost them towards relevant career and coaching pathways.
Click here to read why Manisha is supporting the Women's Sport Trust.
Liz Bingham
Ernst & Young – Managing Partner for People in UK & I
Liz Bingham is a Corporate Finance Partner at Ernst & Young and in addition is the firm's Managing Partner for People in the UK and Ireland and sits on the firm's UK&I Executive Board. Liz is passionate about creating an environment where everybody, regardless of background, has an opportunity to succeed and her current role at Ernst & Young has enabled her to drive the firm's agenda around inclusive leadership as well as helping many of the firm's clients with their own Diversity & Inclusiveness strategies. Liz is a committed role model for women and for LGBT employees and in 2012 featured in the Stonewall Role Models Research as well as in that year, receiving the Women in Banking & Finance award for achievement for her encouragement of other women in the business world.
Click here to read why Liz is supporting the Women's Sport Trust.
Danielle Sellwood
Sportsister Magazine – Co-founder
Danielle Sellwood is the co-founder of Sportsister.com, the sports magazine for women. Started in 2008 Sportsister was set up to re-brand sport for women, to inspire more women to get active and to celebrate the amazing achievements of our incredible sports women. Prior to this Danielle was a sportswear designer for several international brands and senior sports trends editor at WGSN.com.
Click here to read why Danielle is supporting the Women's Sport Trust.

Jon Goodwin
St Mary's University College – Programme Director
Jon Goodwin is Programme Director for the Strength and Conditioning Science courses at St Mary's University College, an internationally renowned sports institution.   He has been Chair for education development at the UK Strength and Conditioning Association (UKSCA) and is a fellow of the Higher Education Academy. In his early years Jon represented England at U15 and U17 athletics.  His strength and conditioning clients span a wide range of sports from club to full international level. Jon's research interests lie in the biomechanical and neurophysiological factors limiting athletic performance and he is completing a PhD in sprint biomechanics.
Click here to read why Jon Goodwin is supporting the Women's Sport Trust.

Liz Yelling
Olympic Marathon runner and coach
Liz Yelling is a two time Olympic Marathon runner and Commonwealth Games medalist. She was the first British finisher at the Athens Olympic Marathon and lead the Beijing Olympic Marathon for the first 10 miles before being tripped, falling and breaking a rib. Showing true courage Liz still ran 2 hrs 33 mins to finish the race. Liz has competed in many of the world's biggest marathon events. Liz was the top European finisher in the 2008 World Cross Country Championships, has won medals at the World and European Championships and has won the National cross country championships 4 times. Liz has a half marathon best of 69 mins 28 secs and a marathon best of 2 hrs 28 mins. She has been a British international runner for over 20 years. Now retired from international running she continues with her passion by coaching runners of all abilities – from women who think they can't run, through to aspiring Olympians. She is an ambassador for Lucozade Sport and Adidas. Liz is the author of the book 'The Woman's Guide to Running' (Hamyln, 2006) and a regular contributor to health, fitness and running magazines and a speaker at schools, corporate events and shows.
Click here to read why Liz Yelling is supporting the Women's Sport Trust.
Jane Tabor
Former IBM Executive now independent consultant
Jane Tabor spent her executive career running UK and International services, software and technology businesses for IBM with experience across multiple sectors and working extensively through partnerships and alliances. Most latterly she was the Director of Strategic Alliances for Europe. She is a member of the governing Council of Loughborough University and has previously held Board positions on two not-for-profit charitable organisations including AbilityNet, an organisation that enables people with disability to benefit from the use of adaptive and accessible IT.
Jane has always been active in sport competing at national schools/university level in athletics and netball, and still retains a Hampshire County Record. Her activities are now more 'gentle' including yoga, pilates, walking and social golf. Throughout her executive and non-executive career Jane has been regarded as an authentic leader, valuing diversity and recognising the benefit and transfer of skills, confidence and commitment developed in sport to the workplace.
Click here to read why Jane is supporting the Women's Sport Trust.

Karen Keohane
StreetGamesUK – Director of Us Girls Programme
Karen Keohane has worked in Sport Development for over 25 years, including 10 years at Sport England. Her driving passion is getting sport into the heart of local communities and she has seen first-hand the difference sport makes in helping people improve their quality of life – whether that be making new friends, getting fitter and losing weight or gaining new skills and qualifications. Since 2011 she has headed up the Us Girls Programme for the national Sport Charity, StreetGamesUK. Us Girls has attracted over 34,000 young women from disadvantaged areas to get active, and is an integral part of the StreetGames ambition to create 1000 Doorstep Sport Clubs over the next 4 years. Karen is an active sports participant herself and enjoys playing and coaching tennis, cycling and generally keeping fit.
Click here to read why Karen is supporting the Women's Sport Trust. 
Helen Phillips
Leading businesswoman and Chair of Welsh Gymnastics
Helen Phillips is an Executive Director and Non-Executive Director of a number of UK based businesses and National Sporting organisations. A former international squash player and gymnastics coach, Helen is currently Director for Gymnastics and sits on the Commonwealth Games Council for Wales.
Helen is a loyal advocate for the progression and development of women in sport. In her mentoring of talented women, she is able to apply skills gained from the highly competitive and challenging corporate world, combined with the values of hard work, determination and pride associated with her involvement in sport. Helen has a reputation for bringing strong leadership and contagious enthusiasm to any programmes, projects or organisations she is part of.
Click here to read why Helen is supporting the Women's Sport Trust. 
Serena Brotherton
Solicitor and leading amateur jockey
Serena Brotherton is a leading amateur jockey who has won the Lady Amateur Rider's Turf Championship a phenomenal six times. She also managed to win the All Weather Championship, which is open to male and female amateur riders, in 2009-2010 and was runner up last season.Highlights of her flat racing career include winning her weight in champagne at York on Flower of Cannie in 1999 and Sporting Gesture in 2003, winning the Queen's Golden Jubilee Handicap in 2002 on Kings Crest, winning the Longines Handicap at Ascot on Rosko in 2010, winning the Ladies Derby at Newbury on Aypeeyes in 2008, Just Like Silk in 2009 and The Quarterjack in 2012 and lastly winning the Ladies Derby at Epsom on the appropriately named Epsom Salts in both 2009 & 2012.Serena has also ridden internationally, participating in races in China, Budapest, Bratislava, Qatar and also Malaysia where she rode a treble in 2003!She is a solicitor three days a week working in the Private Client Department of Langleys, a firm of solicitors based in the centre of York.
Click here to read why Serena is supporting the Women's Sport Trust. 
Claire Harvey
GB Sitting Volleyball – Captain
Claire Harvey is captain of GB Sitting Volleyball and competed in the London 2012 Paralympics.
Click here to read why Claire is supporting the Women's Sport Trust. 
Catherine Spencer
Former England rugby captain
Catherine Spencer is a former England Women's Rugby Union player and Captain. She currently works for the RFU and is Patron of the Tag Rugby Trust.
Click here to read why Cath is supporting the Women's Sport Trust. 
Kate Hardcastle
Leading businesswoman and Bradford Bulls Executive Director
Kate is a business expert who regularly provides opinion and analysis on television news programmes. She is the driving force behind Insight With Passion, a company that helps individuals and businesses grow with confidence. She is also a lifelong Bradford Bulls supporter who is now a non-executive director at the club. She's a multi award winner for her services to commerce and business and is the 2013 Tesco Mum of the Year.
Click here to read why Kate is supporting the Women's Sport Trust. 
Nicholas Barnett
Management Consultant – Accenture
Nick is a management consultant at Accenture and a passionate sportsman. Treasurer of West Hampstead Hockey Club for the past four years, Nick has been playing hockey and involved in the sport for 20 years. Nick is a passionate diversity campaigner, taking a year out to be Vice-President (Welfare) at Bristol University Students' Union and then upon joining Accenture becoming LGBT Network Co-Lead, taking them to No. 1 Ranked LGBT Employer in the UK. Nick's passion for sport is all consuming and he understands the huge positive impact it can make on all involved. Nick's only wish aside from the WST achieving its goals is to be a better hockey player!
Click here to read why Nick is supporting the Women's Sport Trust.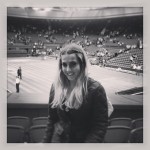 Sophie Callender
Head of Olympians, James Grant Sports Group
Sophie has six years of sport sponsorship and PR experience and has worked across no less than 26 different sports… but who's counting?
Sophie's career started in the world of fashion and luxury before she was tempted away by the excitement of supporting key UK Olympic and Paralympic athletes competing in the London 2012 Games. From then on, Sophie has been managing elite sporting talent and working on campaigns for brands big and small.
Heading up the Olympic division at James Grant Sports, and working on commercial opportunities for Rugby and Football, no day is ever the same. From rowing to cycling, athletics to rugby, cricket to football, swimming to diving, Sophie's focus is sport, sport and sport. As one of the very few female Sports Commercial Managers, Sophie recognises the importance of her position in the industry.
Involved in sport since the tender age of three, Sophie was Mounted Games County Champion at school, evented with BSJA and swam for Guildford City. Nowadays she is an amateur triathlete, enjoys long runs across various bridges and parks in London and is constantly badgering her female friends to sign up to the latest boot camp, triathlon, netball team etc. so they can help level the playing field!
Click here to read why Sophie is supporting the Women's Sport Trust.
Dina Medland
Independent writer, editor and commentator
Dina is an independent writer, editor and commentator with a strong focus on issues around corporate governance, ethics and the workings of the boardroom. A regular contributor to the Financial Times, she is also a contributor @ForbesEurope on corporate leadership, the boardroom and governance. Further detail about her background and a portfolio of work is available on her website.
As Special Consultant to the Dean of London Business School, Laura D'Andrea Tyson, Dina played an important role in her report on the Recruitment and Development of Non-Executive Directors. She has worked as a headhunter in London at senior levels and has an understanding of the industry.
Born in India, Dina grew up in Washington, DC and attended Wellesley College in the US, graduating Cum Laude with an accelerated degree. She went on to Oxford University for an MA and Cambridge University for an MPhil. She spent three years (2009-end 2011) on the Cambridge University Alumni Advisory Board as one of its founding members, an appointment made by then Vice-Chancellor Professor Alison Richard. She was also deputy Chair of the board's Communications Group.
Click here to read why Dina is supporting the Women's Sport Trust.
Jamie Singer
Founding Partner at Onside Law
Jamie is a founding partner of Onside Law, one of the UK's leading sports specialist law firms. He qualified into the Commercial department at Clifford Chance after a secondment to their Dubai office and in 2000 joined the dedicated sports group at Nicholson Graham & Jones. Latterly he spent five years as in-house counsel at IMG where he was principal legal advisor to IMG's tennis, sponsorship consultancy, fashion and models divisions throughout Europe.
Jamie advises on a wide range of commercial, intellectual property and regulatory matters across the sports and entertainment industries. Clients include the Rugby Football Union, British Athletics, the Lawn Tennis Association, Universal Music, the England and Wales Cricket Board and Premier Models as well as many high profile individuals including Jessica Ennis Hill, Mark Cavendish, Sir Jackie Stewart, Sir Michael Parkinson and Heston Blumenthal.
Recently his practice has included advising on high profile sponsorships for the England Cricket team and Team Sky, the sale of Roland Garros' broadcast rights and appearing before the Court of Arbitration for Sport in Lausanne to secure a successful match fixing prosecution for the ITF.
Jamie regularly speaks at conferences, writes articles and appears on television as a sports law expert. Both of the leading independent legal directories, Chambers and Legal 500, recommend him as a leading sports law practitioner. They describe him as "providing an amazingly efficient, straightforward service" and being a "knowledgeable and comforting presence to work with". He also sits as an independent advisor to the ECB's Anti Corruption Commission.
Click here to read why Jamie is supporting the Women's Sport Trust.
Lynsey Hooper
Sport Broadcaster
Lynsey Hooper is a freelance Sport Broadcaster – one of her most recent appointments was as the first ever female football reporter to work on national radio station talkSPORT. Lynsey also works for several television networks including Sky Sports, BBC and ESPN and has previously presented Sport for ITV Central News. She worked as a presenter for LOCOG at the London 2012 Games and also anchored a world sailing tour that took her around the globe in 2012. Lynsey launched an all-female weekly football podcast called The Offside Rule (We Get It!) last year which has been widely received.
Click here to read why Lynsey is supporting the Women's Sport Trust.
David Stalker
CEO of ukactive
David Stalker is CEO of ukactive, the UK's leading not-for-profit health body for the physical activity sector. Under David's leadership, ukactive  galvanises key stakeholders and partners to deliver break-through campaigns, facilitate big impact partnerships, conduct critical research and develop key projects that champion the physical activity agenda . David's passion is people and his belief for championing the development of the sector's human assets by identifying opportunities that harness expertise and facilitate the advancement of the sector has rippled around the industry throughout his 20 year career in health and fitness. He is an inaugural trustee of the Chartered Institute of the Management of Sport and Physical Activity (CIMSPA) and continues to serve on the board of directors for CIMSPA and the European Health and Fitness Association (EHFA).
Click here to read why David is supporting the Women's Sport Trust.
Other confirmed members of the Grants Board are listed below. Full profiles coming soon, as well as details of additional people who will be joining them on the Board.
Sue Mott, BT Sport
Claudia Brind-Woody, Global Intellectual Property Licensing
Anna Mayes, Head Coach England Netball
A representative from our Headline Sponsor will also join the Grants Board.