#BeAGameChanger – Play your part
"Together we can level the playing field for women's sport. Join us and #BeAGameChanger."
On May 28th 2014, 350 leading figures from sport, media, politics and business will join the Women's Sport Trust and Microsoft at our #BeAGameChanger event. The event is designed to raise the profile and increase the impact of women's sport.
Play your part
We're asking everyone across the UK to join us in making a difference to women's sport by completing at least one of the actions on the #BeAGameChanger Bingo card shown here. In fact, why not try to complete the whole card!
Prize
Following our #BeAGameChanger event on 28th May, the first person who can evidence that they have completed all 9 Bingo tasks – will win a rowing lesson on the Thames with Olympic Gold Medallist Anna Watkins MBE, followed by tea together at the legendary Leander Club.
Tweet us a photo of the completed bingo card and we'll be in touch to verify that you are the winner – be prepared to provide proof!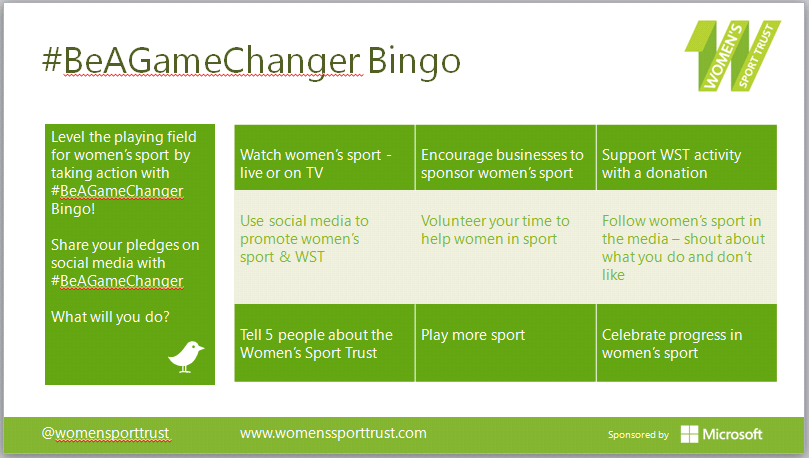 Click here to download a PDF version of #BeAGameChanger bingo card.
Spread the word
To spread the word further, please share a photo with details of your activity along with the #BeAGameChanger hashtag. We'll be including the best examples on the Women's Sport Trust website, our Facebook page and Twitter.